If you are like me, then you firmly believe in the philosophy "live to eat, and ...eat to live as well' so here is one of the things I simply love the most.
Possibly among the best things India has to offer, and in my humble opinion un-paralleled by any other breakfast I have eaten, a south Indian breakfast (SIB) is the love of almost every Indian I can safely say. (might be eaten as a meal or a snack even)
A SIB is completely vegetarian and can consist of various items (usually only one of these is prepared on any day, sometimes two), and I am listing some of the most popular down here.
The simplest one to prepare is called the Upma. Where semolina is lightly fried, tempered and then cooked with a little salt, sometimes with vegetables and usually served by itself, or with coconut chutney or with some crisp noodles etc. This is also called Tomato bhaat.
In Bangalore it is sometimes served in combination with a sweeter version of this with pineapple pieces, called Sheera and the combination served as 'Chou Chou bhath".
The most common staple in a South Indian breakfast is the Idli and the Dosas which are also extremely healthy
The Idlis are steamed rice cakes which are served with various coconut chutneys, sambhar and with gun-powder (Molagapudi) drenched in gingelly oil.

Idlis can also be made in various ways. Sometimes with coconut milk or coconut, this is called Sanna. There is something called a rava idli or kancheepuram idli which is made with a bit of Rice Semolina and with some vegetables and dry fruits thrown in.
Dosas are essentially light pancakes made from rice and lentil flour.

At restaurants they make a complete meal when served as a

masala dosa with a potato curry filling. Dosas can be made in a variety of forms right from plain rava dosa (rice semolina) to Mysore masala dosa (with a spicy chutney paste lightly rubbed onto the Dosa) and also a set dosa.

One of the healthiest versions is something called Adai which is made from a combination of different grains and served commonly with some jaggery and a coconut milk based curry called Avial.
There are other forms of pancakes and idlis which are not normally available in restaurants and you need to visit someone's home for this. There is a semolina based pancake mixed with bananas and also spiced lightly with chillies. And then a healthy version of pancake made out of Raagi flour (millets). There is a special version made for religious ceremonies and in temples – extremely tasty, and contains various grains and both crunchy, and grainy and real tasty.
Both Idlis and Dosas eaten mostly by themselves and with little else besides a plain chutney or pickles or gunpowder, in most homes. Some prefer having them plain.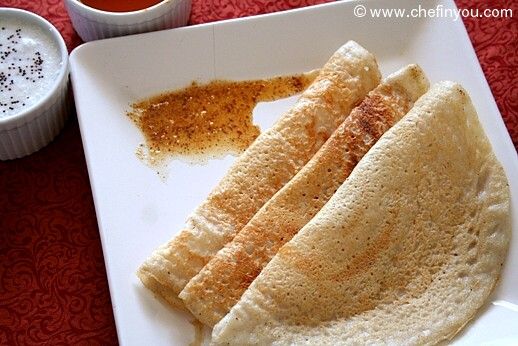 What makes Idlis and Dosas extremely healthy is the fact that they are made from fermented flour prepared and kept overnight.

The enzymes that ferment the flour are extremely pro-biotic and make this very light and easy to digest.
In addition there are a variety of other dishes – there is the medu wada which is a deep fried crispy donut made from lentil flour. And there can be a variety of Upmas made from vermicelli and other forms of Indian Pasta. There is also the Pongal which is like a khichdi (or a risotto dish) made from rice and lentils.

Usually most folks make the savoury version only, and a few also make the sweet one mainly for devotional purposes or during festivals.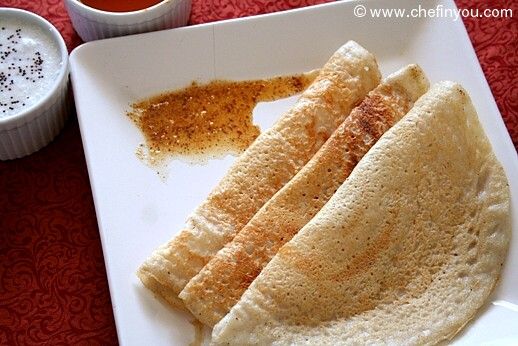 So really what makes the south Indian breakfast so special?

The first is the unbeatable taste. And then it is mostly freshly made and prepared, and then it is healthy (well, mostly). And then it is almost a complete meal by itself, and therefore also a great snack to have in the evenings. (In Tamil Nadu most restaurants do not serve meals for dinner and instead only provide these snacks).
And the negative – well, it can be, of course quite heavy, and yes, it can be hard to stop given how tasty it is.

And one other thing is that it is extremely hard for people to figure out how spicy and sometimes hard it can be on your stomach, especially the Sambhar and spicy chutneys and gun powders.
My dream buffets and the best ones I have eaten have always been south indian breakfasts. Very few people north or west of the Vindhyas get this right.

Which is why I love traveling down south and walking down to one of the udipi joints and having a proper breakfast – and top this with a good filter coffee.
Absolute heaven

- try this sometime at your closest Indian/ Udipi restaurant, its an unbeatable experience!
PS: South Indian food is best eaten at someone's home or in a real clean caterer. Most Udipi restaurants or hotels I have been to don't make the cut. When I have stayed at hotels whose restaurants give me south Indian breakfast it was hard to eat the food more than two days unlike at home when I could eat this everyday easily...